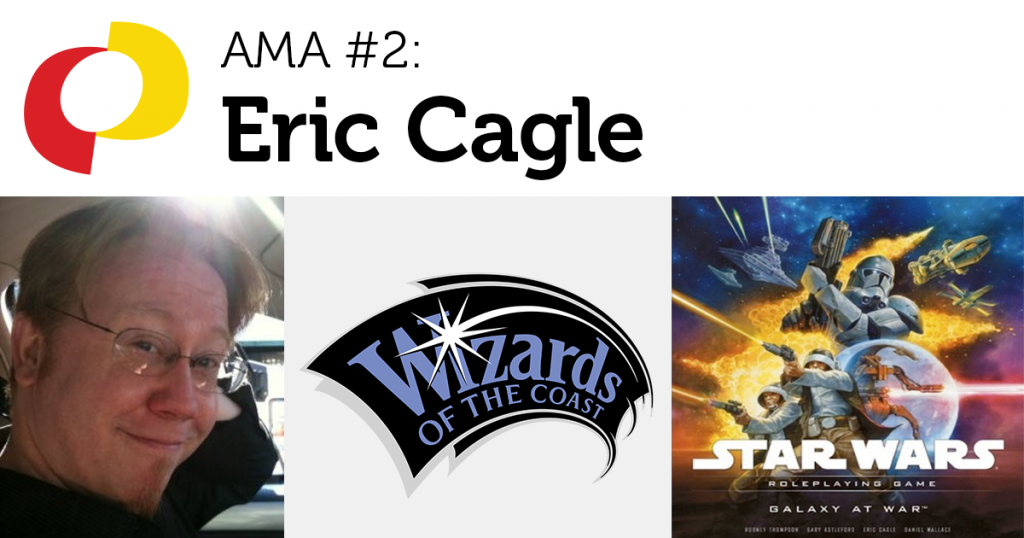 This is a transcript of an "Ask Me Anything" (AMA) session with Eric Cagle, hosted by the IGDA Student SIG. If you're interested in doing an AMA with students, you can sign up here.
Eric Cagle has 20 years of game design experience and has worked on projects for Wizards of the Coast, Microsoft Game Studios, the Star Wars franchise, and more. Check out his full portfolio.
Eric C
Testing, testing…1, 2, 3
Ian P
hello, thank you for coming!
LiamSorta
Hey Eric
Jeanenne Campbell
Hi, Eric!
Livio
1:00 now we can get started
Give us a little intro first Eric, and people can start asking questions
just a breif summary of who you are
Eric C
Sure thing. Hey everyone! I'm Eric Cagle. I've been a game industry pro since 1995, mostly in the tabletop space: board games, roleplaying games, card games, you name it. I got my big start at Wizards of the Coast and was there for 10 years (till 2005) and worked in customer service, R&D, and organized play
Since then, I went into the weird world of freelance/contracting, working in the video game space and still helping RPG (and other) companies with writing and game design
Games/Titles that I've worked on include: Magic: The Gathering, Dungeons & Dragons, Star Wars (several incarnations), d20 Modern, Warhammer Fantasy RPG, lots of smaller indy titles
I've been a game designer, writer, editor, editor-in-chief of a game magazine, narrative designer…
and a couple of oddball stints working in the SQL Databases of Xbox (?!) and now….teaching a bit on game design!
Also, I live in Seattle where, amazingly, it's not raining at the moment 😃
How's that?
Livio
it's been unusually sunny over here this week
Livio
Eric do you have a favorite project that you've worked on?
Eric C
I've had a ton (and plenty more that I hated lol)
Probably one of my faves was working on Warhammer Fantasy RPG. It's GLORIOUSLY DARK AND GRIM and a ton of fun to work inside
It's a fun day where you get to use words like "blasphemous" and "squamous" without blinking
Jeanenne Campbell
What projects have you hated working on and why?
Livio
lol did you hate the tech or the people
Eric C
Actually in the gaming space, there were very few that I HATED working on
LiamSorta
I'd love to know how the size of the team you were on (and the budget of the project) effected your creative control over a project, and whether the restrictions (if there were many) put you off larger scale projects
Eric C
usually it was more frustration on certain aspects. For example, I helped develop the first core book of Fantasy Flight's latest iteration of Star Wars. The guys were great to work with, but the rules were still….doughy…when I was working on it. There was this expectation for me to come up with rules that were "missing" in there. But, when I did, I was told they were wrong without much in the way of insight.
LikeFrogs
Someone's gotta ask, soooo: what's your favorite trpg to play?
Eric C
@LiamSorta : Ironically in the RPG space, the larger the team, the worse off you'll be. It's such a small, intimate business AND everyone has a creative streak that tends to cross over into other people's "vision", so you have to be prepared to Kill Your Darlings if you want to succeed
@LikeFrogs: Dang, you HAD to ask
My top fave games: I love 5e D&D right now. It's clean and elegent, both for the players and for the designers
Anyone heard of Ars Magica?
LikeFrogs
I've heard of it, but that's all I can say…
LiamSorta
Yikes, so have there been many situations where you've had creative clashes with other people on a project then? How did you end up resolving them?
Eric C
RE: games: I'm also a HUGE fan of Feng Shui and also really like FFG's Star Wars (and not just cuz I worked on it…)
@LiamSorta : It all depends on the team/company you're working with. And the IP. In the case of things like Star Wars or Magic or even D&D, you're constrained from the get-go by the overarching story anyway. You're automatically prevented from going hog wild on creating something new…and there's ALWAYS approval processes in place to check writers that go a bit…off
If you're a writer or designer in the RPG space, unless you have your own company, you're playing in someone else's sandbox: their rules, their final say on what goes into a book/game
Jeanenne Campbell
From a game designing perspective, what is the process for making a game like?
LiamSorta
Hm yeah I can totally see that being the case, thanks
LikeFrogs
How were your assignments structured to fit within these precreated fictions?
Eric C
@Jeanenne Campbell : Well, what kinda game are we talking about first?
Jeanenne Campbell
Lets say a game like Star Wars, for example
Eric C
@Jeanenne Campbell : AH, well, first and foremost you need to look at the GAME first and the world/story second.
Why? Because if the game mechanics and flow suck, you're not going to do the world any service lol
Livio
so you were usually working with a project that's already been through enough work to have some idea of mechanics
LiamSorta
I've been running a gamedev community for about 9 months now, and as part of it, we regularly host game jams. One comment we've had frequently from designers is that they find it difficult to find teams due to everyone being in search of either programmers or artists – what advice would you give for a budding designer looking to get involved with game development that doesn't have any technical background?
Eric C
But in that case, you have the advantage that the World/IP helps you dictate the STYLE of game design. For example, Star Wars is all about EPIC CINEMATIC!
the default setting isn't realistic or gritty, so the mechanics need to reflect that. You have space wizards with laser swords! It's more about capturing the feel of the movies IN the mechanics than accuracy
So in that case, you want to keep charts and "rules" to a minimum to allow play to move quickly and smoothly, with a lot of hand waving for the GM to fill in the blanks
@LiamSorta : Honestly, I'm often in the same boat lol
Ian P
You rate your vendor shmoozing as 5 yellow dots out of 8 dots on your website. How important do you think it is develop your shmoozing skills, and is there a part of your career where your shmoozing skills were more useful than others?
Jeanenne Campbell
I can see how that would make sense. Thank you!
Eric C
There's a joke that is out there that designers are the "idea guys". The truth is that NO ONE is the Idea Guy, but someone has to have the overall vision of a game to keep it coherent, or else the programmers will go left and the aritsts go right
A good designer will walk in with a ton of ideas and a willingness to toss out most of them and replace them with ideas that come from the rest of the team
"Be like water, Young Avatar"
@Ian P : RE: Schmoozing.
OMG it is probably the most important skill to have. PERIOD
LiamSorta
Brilliant answer, thanks!
Livio
what exactly do you mean by schmoozing
Eric C
Networking, relationship building, customer service, swag, trading gossip, being helpful/kind/courteous/generous with those in the industry. Treating your vendors and customers with respect. That sort of thing 😃
The age-old adage of "Don't Be a Dick" works double or triple when you're a designer, because your reputation is critical
If you're a surly, but brilliant coder, you'll find work SOMEWHERE. If you get a rep of being hard to work with as a designer, then….well, Dominos is hiring year round
If you're a contractor/freelancer, especially when doing creative work you have to follow the rule of three:
1.) Always be wrapping up payment for a project you just finished
2.) Always be actively working ON a project
Livio
oh man nothing's worse than a creative lead who's hard to work with.
Eric C
3.) Always be landing the next three gigs after the one you're currently on. Leave no gaps, if you can help it
Livio
that's like one of the whole points of their job, to be easy to work with
Eric C
@Livio : DING! Correct
Livio
sorry I interrupted your rule of three
Eric C
@LiamSorta : I don't know if I answered your question or not really :/
Ian P
Thanks for the answer! I have some experience shmoozing for film & video work that I've done and wanted to see if it was similar in games.
Eric C
Well, I have to say that I've made a career doing what I'm doing mainly because I know a TON of people in the space
Those contacts are critical and DON'T limit it to just games. Like you said prior, talk to people in adjacent industries: VR/AR, film and TV, graphic designers, audio people, convention folks, etc.
Jeanenne Campbell
Not really sure how related this is, but do you have any tips for networking if you're an introvert?
Eric C
You'll be amazed how having a diverse virtual Rolodex (is that a thing still?) will get you places. Also, see "Don't be a dick rule" lol
Nes
Do you find that networking events and such are different for tabletop video game designers? I've heard from friends that there's often vastly different circles that traditional games designers have to run in.
Eric C
@Jeanenne Campbell : Remember that you're in an industry built by nerds, making things for geeks. We're ALL introverts, so just be yourself 😃
@Nes : Well with video games, there's a lot more talk about the technical side of things
LikeFrogs
What are good steps for breaking into industry before you have the connections?
Eric C
A lot of which just goes right over my head. Not that I'm stupid, but it's just not my FIELD. However, I'm familiiar with everything their talking about. The trick is to insert yourself into the spaces by offering your own unique perspective on game play
Livio
people say introverts are easily tired out by social interaction. So I started seeing networking as a test of stamina. And I took rests when I needed them.
Eric C
Also, be honest about your skills. For example, i start every one of my teaching gigs (with Livio!) saying "I am NOT a coder. Just to be clear, I am a game designer that does not code." LOL
I just work with and give instruction to the programmers to do their Black Magic and show me results. Same with artists. 😃
That said, if you're a "game designer" do yourself a favor and learn the absolute basics of coding in the platform you want, say Unity (and some C#)
Or pick up a little Java or LUA
Nes
or Unreal and C++! Super important!
Eric C
@Nes : That's right, pick your flavor!
Livio
Unreal's got their Blueprints system, which doesn't require typing
Eric C
@LikeFrogs : Regarding getting into the industry without the networking. START ONE!
Things like this and the IGDA in general are places to start
Go to Hack-a-thons, even if you're just watching. Get to meet your fellow geeks
Livio
by "start one" you mean "start a project" right
Eric C
Well, yes lol
And also remember: you already have a network. Friends, family, colleagues, fellow students
start small, do fun weird little projects, build out from there
For example, when I lucked into my job at Wizards waaay back in the day, I got to know those people like they were my own family. then, over the years, people left and formed their own companies or worked for others. Keep those contacts strong and they will benefit you when you see a post on Facebook about a possible gig or cool project
LikeFrogs
Lots of good advice, thanks!
Eric C
To this day, I STILL tap that network that I started 10,000 years ago
Eric C
Also remember: Your hobby may be the thing that you end up doing as a career. that's how I got started
But of course there WAS no degree in "Game Design" (Game Theory, yes…but that's math :P)
So, if you like tinkering with VR then you might find in a year or two being the Lead Programmer on some awesomely weird gig
And they will pay you CASH MONEY for it. Whodathunk?
Hm, Discord may have borked on my end. Someone post a test message on here for me
Ian P
Hello, is your discord still broken?
Eric C
Seems to be working. Thanks, Super Glue!
Livio
sometimes it does stuff like that
Eric C
Just remember: it's a free program lol
Like Skype
Ian P
So, you've worked on writing for both tabletop and video games, right? if so, what are the major similarities and differences for writing for both?
Eric C
Well, by writing are we talking narrative or game/mechanics design?
Ian P
I was thinking narrative, but if you feel you are more experienced with mechanics design, I would love to hear what you know more.
I mean, I'd love to hear both, but I don't want to be here forever
Eric C
K, well Narrative then. In tabletop, your prose and narrative design often IS the game. Or at least, it's almost the entirety of the world that you're building.
In video game design, the story and dialogue is IMPORTANT, but not THE most important aspect
Lemme put it this way: in video games, you can make a game without words and make the best game ever. In tabletop, you can't make a game without words at all lol
so those words had better MEAN something.
Do you guys know the term "crunch vs. fluff"?
Ian P
Not the crunch part.
Jeanenne Campbell
Not sure what the term means
Eric C
In Tabletop, crunch refers to the MECHANICS of the game and the way in which you describe them.
Livio
lol even I haven't heard of that
LikeFrogs
you guys clearly need to play some more trpg's!
Eric C
Fluff, however, is the story: the characters, dialogue, description of the world, etc.
So, a "Crunchy" bit for say the D&D Fireball would be: "The caster launches a ball of fire from her hand that deals 8d6 fire damage that explodes in a 10′ x 10′ area. Creatures in that area can make a Dexterity save at DC 16 for half damage"
Livio
that sounds like a useful term tbh
Eric C
Fluff would be a story or element describing the effect of the fireball, who created the spell in the first place, and how it is used by the War Mages of Narth in their quest of domination over the Lizardfolk of the Ebon Swamp.
😄
LikeFrogs
How do you balance between the two? And which usually comes first?
Eric C
Depends on the system
What I mean is that some games are more reliant on one over the other. Neither is correct or bad, just depends on the style of game
Nes
Magic needs to work on it's crunch >.>
Eric C
For example, there's a GREAT game called Feng Shui that mimics the over the top cinematic portrayal of action movies, kung fu movies and the like
Ian P
Do you know the best way to find people to play trpg's with, since @LikeFrogs is attacking me for not knowing anyone to play with?
Eric C
the "rules" are super super light and easy, but the game is best because of how you describe what your character DOES
LOL, no geek shaming, ya'll!
Xavier
Has anyone asked about your rock opera yet? What's the story behind that? 🙂
Eric C
@Xavier 😄
Ooh, that's a LONG story there
(And I just acted/performed in it. It was created by a brilliant, insane friend of mine)
Seven ritual plays created by Aleister Crowley set to prog rock lol
@Ian P : There's a WEALTH of things you can do to find other tabletop gamers. First and foremost, head to your Friendly Local Game Store.
Eric C
Any last questions? Realizing I didn't talk tooooo much about video games 😉
Jeanenne Campbell
Not a question but I really enjoyed this AMA. Your answers were very informative 😁
teazomboii
Makes me feel like luck and good attitude is as much as the key is as to a good demo real
Eric C
@teazomboii : Those are key, yes. Plus BE MERCENARY
Get paid what you're worth. Don't do anything for free unless it's done strictly for fun or education. Don't put up with abusive rules or expectations. Always be on the look out for something better, just in case
Be professional with the jobs/gigs you have
Loyalty (from both you AND the companies you work for) is EARNED, not demanded
Jeanenne Campbell
This is really good and sound advice
Livio
Thanks so much Eric!
Eric C
Hey, thank you guys! This was a lot of fun 😃
Now go out there and make (and play) some damn games!
Jeanenne Campbell
Thank you for coming! Really appreciated.
LikeFrogs
Thanks a bunch!
Ian P
Thanks a ton for coming in and talking to us Eric!
Eric C
I'll arrange it with Livio to sit in on another few down the road. Then I can tell you war stories from the trenches of the RPG world. Heh.
Eric C
Also, feel free to ping me on here via PM if you have any further questions
Ian P
Eric: the man behind the kilt
Eric C
@Ian P : That's better than "the man UNDER the kilt". No one wants that, trust me.
Ian P
I did think it might be construed the wrong ay after sending it
teazomboii
The game industry didnt prepare me for this
Nes
Don't make me call HR
Eric C
That's why I work contract: I AM HR
Which means I have several workplace complaints against myself
Nes
Actually! What's the one thing you want to improve the most, skill wise?
Eric C
@Nes : You're gonna laugh, but I'm teaching myself Unity 😄
teazomboii
I think thats great :0
Nes
Nah man I totally get that. It's tough to get started in anything. Unity is rough on it's own.
You using it for prototyping game concepts?
Eric C
I just need to know enough to know how to talk semi-intelligently with the pro coders. And yes, prototyping
I do a lot of paper concepting already (and make board/card games), but sometimes it's just better to do it in Engine
So, if you want to be a designer, learn to code, even just a lil bit
(I'm still talking, apparently)
teazomboii
The book was better
Eric C
This is known as the coda
The book was written by a hack. Trust me, I met him.
Anything else? Otherwise Friday Beers beckon 😃
Nes
I'm good. Enjoy your brewsss
teazomboii
Uhm how do we befriend pros for great advice like yourself
Eric C
@teazomboii : Go to cons, meetups, and events. Then buy them a Friday Beer and ask them a lot of questions about themselves. They Looooove to talk
Toad
Quick question, thought potentially complicated – do you have any advice for writing branching dialogue?
Eric C
@Toad : Ever heard of the app/site called "twine"?
Toad
I was interested in more the creative/artistic/writing side of it, actually
Eric C
Ah, well that aspect goes hand in hand
Meaning if you have a good tool (here's the link for all: http://twinery.org) it'll help you with your branching story without having to resort to lots of index cards and flowcharts
If you can "see" where your dialogue goes, then your lizard brain will help make the connections easier and locate dead spots, bad loops, or things that trail off without a purpose
Also, when you're writing that sort of dialogue, you need to remember that you're NOT WRITING YOUR STORY: you're writing the GAME'S story.
Eric C
So you have to be able to pull back every once in awhile and look at the story and dialogue as a whole and make sure that you're not just writing for an audience of one (aka you)
And for fantasy games, especially, make sure to limit "made up words" to a minimum. Same goes for making names – if it's chock full of x's, q's, and random apostrophes, then interest drops considerably lol
Toad
Thanks for the tips! Really appreciate it
Eric C
😄
Just remember that your gaming audience (probably) speaks and understands 21st Century American English vernacular at a 4th-6th grade reading level. Keep your dialogue natural and conversational
(Note that there are always exceptions to said rules)
Ok, all. Thanks again! Cheers!
Jeanenne Campbell
Thanks and good night!
LadyCadashing
@Toad Twine is definitely good. I've also been recently playing around with Renpy for a project I'm doing, and it's pretty fast to learn the very basics of it with, which makes testing slightly more complicated branching dialogue pretty easy (bonus over twine: Renpy keeps all your code/dialogue in one document so you're not constantly flipping through passage nodes trying to find something you need to fix, you can just scroll down to it instead). Plus it's a fully working VN engine with a lot of documentation/support, so once you figure it out it has a lot of potential for bigger projects than twine does. https://www.renpy.org/
esarkis
Sad I missed the AMA but happy to have the logs to peer through! I'd also like to sing the praises of Twine. I've tried writing IF in ChoiceScript and although it offers more freedom it is extremely helpful to have a visualized node-based map of your story in Twine as opposed to just loads of documents like in ChoiceScript. Been meaning to look into Renpy too.
Eric C
Totally intrigued by Renpy now. 😃
Kris Paz
I'm with them too. 🙁 I'll peer through it if I can
Toad
I've heard of Renpy but I decided to try to make a VN in Unity because I'm trying to get familiar with C#, Unity's custom libraries and the Unity engine in general. But I'll definitely look into using something like Twine to model out my dialogue before implementation. Thanks!
esarkis
@Toad ever heard of Fungus? It's a free Unity toolset for VNs iirc
Brandon Anderson
We are using it in a project I'm working on it. It seems pretty decent but I haven't looked much into it. The dialogue flow charts are pretty nice looking though @esarkis
Toad
Thanks for all your recommendations for dialogue implementation, but I've actually got my own custom-built system just about finished. I was more interested in the art of writing branching dialogue, but I appreciate all the suggestions! I'll definitely have a look at those for future projects
LiamSorta
Oh interesting, mind if I ask what approach you went with? Always interesting to hear
Toad
I built something loosely based off of the Model-View-Controller software architecture pattern. Ive got an object-based dialogue system where I've got an abstract superclass of DialogueNodes, with child classes which are different types of nodes, like one that just displays the NPC's text and then a "next" button, or one that displays the NPC's text and prompts the user to select a response, for example. I load in these DialogueNodes into a Dictionary, and each DialogueNode has a field that stores the key (or array of keys, if it's got multiple branches) that this node leads to. There's a default "start" key that the controller automatically looks for, and from there it just goes down the dialogue map as the user chooses paths.
I'm not sure if I explained that clearly enough, or if its too confusing or jargon-heavy